Under Ceausescu
A long way from Vienna
By Vivid writer: Christopher Lawson
I needed the deutschmarks and dollars to buy beer on my journey, and for emergencies. Hungarian and Polish beer was always on sale through the Hungarian part of the trip. If you were exceptionally lucky, East German beer might be available
Posted: 06/03/2008
The man at the bank exchange counter gave me a wink and something more akin to a knowing Viennese leer than a grin.
"I hob vieles doar, I've got plenty here," he said in thick Wienerdialekt, eyes glittering as he lifted a large piece of cloth to reveal metre-high piles of heavily-used blue 100 lei notes, the colours fading fast. I'd just finished changing my remaining hard currency into Deutschmarks and dollars. Guessing my destination, he asked if I'd like some Romanian money too. Virtuously, I told him that I knew it was illegal to import and export Romanian lei. "Ach, quatsch," he said. The rate he was offering was fantastic, even better than the going black market one. Later, I was told that all the Western embassies in Bucharest paid their local staff with lei from Vienna.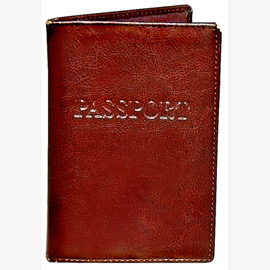 A composite train trip to Romania in the late 1970s-early 1980s and a trip down memory lane for Christopher Lawson.

I needed the deutschmarks and dollars to buy beer on my journey, and for emergencies. Hungarian and Polish beer was always on sale through the Hungarian part of the trip. If you were exceptionally lucky, East German beer might be available. I toured the small supermarket of the Westbahnhof, making sure I had enough to eat and drink, and bought a newspaper, a magazine and a paperback from the newsagent's.
I took the elevator up to the second level and boarded the train to Bucharest. My last glimpse of the west was a marital spat. In the station concourse a French-speaking African student was arguing with a Romanian girl. Obviously newly married, both were weighed down with luggage. I often wonder what became of them. Where was their final destination? Abidjan? Libreville? Kinshasa? Or did the newly minted doctor or engineer decide to submerge himself and his bride in the African quarter of Paris or Brussels? One of my students married a Kenyan. The last I heard she was a mother-of-four, a respected senior secondary school teacher of English in Nairobi. Reports said she was happy.
The first Romanian compartments were always occupied by middle-aged and elderly couples with huge quantities of luggage and white goods, refrigerators and washing machines. Somehow, no doubt with the help of relatives in Vienna, they had managed to manhandle the huge linen-covered boxes inside the compartments, occupying the whole area. You rarely saw bona fide tourists from the West. Otherwise the train mostly contained travellers to Budapest, and, more rarely, Germans on their way to visit family in Siebenbuergen.
Soon after the Wiener Waelzer left the station, we passed a spot where the then-Czechoslovak, Hungarian and Austrian borders met. Hungarian police and customs boarded the train. My double transit visa filled a whole page in my passport, as did the Romanian visa. The Hungarian officials were correct, professional and well-trained, probably in the Soviet tradition. The police officer would open your passport, take a 30-second glance at your photo, then imprint your face on his brain with a disconcerting stare, before looking down again at your picture. These were the days when it was unwise to have facial hair which did not appear on your passport picture. I collected the first of four stamps on the visa.
Meanwhile, a slim teenage boy with a ladder was climbing into the ceiling of the corridor. He had unscrewed the panels and was looking into the inside roof compartment with a torch. He was to do this at the Romanian border too, and on the train going back. I had talked to a Romanian who claimed he had smuggled himself to the West in this uncomfortable way. Although he gave me a graphic account of the state of his cramped body, of taking bottles of mineral water to allay thirst and vast quantities of newspaper to soak up his urine, I simply didn't believe him, especially the latter part. Nobody, I was convinced, could get past a security check as thorough as this.
In just two hours we were in Budapest, where there was time enough to grab a hot meal. Later, when I knew the route better, I'd leave my bags at the left luggage, visit a Turkish bath, find a restaurant by the Danube, dine on roast goose and a huge salad and catch the next train. Goulasch Communism flourished in the 1970s and 1980s and a train traveller stopping off in the Hungarian capital could find practically everything his heart could desire.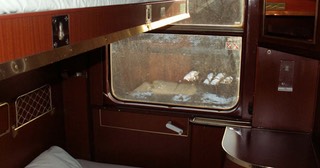 The view from the sleeper car
The abundance of goods in Budapest was clearly one of the motives for preventing Romanians from travelling west. Today, the communist-era border checks at Lokoshaza-Curtici are described as the most sinister behind the Iron Curtain, because of Ceausescu's paranoia about the Hungarians. It took me a long time to realise that the law about foreigners not being able to stay overnight in Romanian homes was specifically directed at Hungarians staying with their Hungarian-Romanian relatives. But I just recall the checks at about 02.00 as being long, drawn-out and tedious, especially in the winter, an opportunity for the bored, unshaven border police in their scruffy uniforms to smoke Kents and make a little money through bribery. By 1983, my last year of train travelling before the 1989 coup, the police boasted a young, highly educated officer, who spoke impeccable English. I used to make a point of taking him detective stories and thrillers.
By dawn the train began filling up with local commuters and families of peasants. I never actually saw a live chicken in their gigantic carrier bags, but wouldn't have been surprised if a rooster's head suddenly appeared. They carried everything else, large quantities of wine and tuica, bread, vegetables, salami and roast meat, and still more supplies buried further down.
It was time for a getting-to-know-you session. "De unde sinteti? Citi ani aveti? Sunteti casatorit?" (eng: "Where are you from? How old are you? Are you married?" These three staple questions generated a satisfactory 30 minutes of conversation. If you had photographs, so much the better. Britain, as a country, didn't register very strongly. The middle-aged peasant ladies would have preferred me to come from Germany or the USA. However you answered question two,- Multi inainte! (eng: You look younger!) would be the response - question three was a mantrap. "So you're not married? Why ever not? You are the right age!"
Then came the hospitality. I'd normally have some sandwiches from Vienna with me, but they were cast aside in the onslaught of offerings from fellow-passengers. I was plied with food and drink until I was full to bursting. I knew that the hospitality episode was sure to happen, but always took food with me to show that I, too, was prepared and organised for the journey. If I made a lavatory call, I could be sure the peasants would guard my bags like watchful hawks. I often made a point of leaving my camera in the luggage rack because I had such total faith in their honesty.
The restful landscape of Transylvania rolled by with its neat houses, rolling hills, mountains and rivers. And this was the disadvantage of the night train. You did not see the scenery unfold in its full glory because the greater part had gone by in the darkness. I always registered Sinaia with its river, forests and untidy woodworkings. Most of the peasants had alighted by now, and the passengers became more individualistic and minded their own business. I would often get off in Sinaia myself to visit families of former students.
If I went all the way to the Gara de Nord in Bucharest, I'd repair to the Hotel du Nord, an ill-lit, seedy establishment, to await the train to Iasi. The hotel has long since been demolished. In its place now stands the sanitised Hotel Ibis, an outpost of Westernness.
In the 1970s and 1980s, the Hotel du Nord was one of the capital's biggest black market centres. I'd pick up the latest gossip and rumour about Romania and the Third World from the African students, who numbered a total of 5,300 in the whole country by 1979. Ceausescu by then had diplomatic relations with every single African country.
The flawed father of pan-Africanism, Kwame Nkrumah, the Osagyefo, the Redeemer, had died of cancer in a Bucharest sanatorium on 27th April, 1972. His body had been flown to Conakry, Guinea. He could not be buried in his homeland of Ghana until a more sympathetic government emerged. One story that can be sourced tells of Emperor Bokassa, once a sergeant-major in the French army, marrying a Bucharest dancer, Gabriela Drimba, in 1973. Bokassa flew her to Bangui to join his harem of 29 wives from several continents. Amid such tales, and reports of the latest drunken escapades of Nicu Ceausescu, I finally felt I had come a long way from Vienna.