History
Two state visits
By Vivid writer: Christopher Lawson
How King Carol II became a statesman as darkness fell over Europe. (The first of two parts)
Posted: 02/02/2009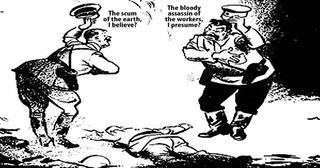 Rendezvous from the Evening Standard, 20th September 1939, set in the ruins of Poland, shows Hitler and Stalin genially bowing to each other. The cartoonist David Low captured an important truth: where ideology and national interest are in conflict, national interest prevails. Democratic Europe was shocked to see two old enemies shaking hands.
Seventy and 30 years ago this year two ruthless authoritarians, Romanian heads of state from very different epochs, both of whom had a taste for grandiose building projects and a personality cult, paid State visits to Britain. One was awarded the Order of the Bath, the other the Order of the Garter, which was withdrawn by the Queen in the last hours of his life. King Carol II of Romania came to London between 15-17 November 1938 to be greeted by George VI, father of the present queen, who had succeeded his hapless brother, Edward VIII, on 11 December 1936, after Edward's abdication.
For King Carol it was his fifth and final visit to Britain. He had previously attended the funerals of Queen Alexandra and King George V in 1925 and 1936 and "conducted himself with dignity and discretion". In 1925, Ionel Bratianu, intent on the fall of Carol, had ensured that Carol's reputation was besmirched before he arrived in London. The Crown Prince of Romania had broken his parents' hearts and deserted his wife for the illicit love of a mistress as promiscuous as he was. The adjectives for Magda Lupescu came so easily that use became automatic. She was a "flame-haired, green-eyed temptress with alabaster skin". The quality newspapers preferred "Titian-haired". But what was most significant in a country whose anti-semitic roots ran deep, she was a Jewess, albeit converted. A philanderer who indulged in champagne and gambling orgies, Carol was weak-willed, irresponsible, scatter-brained, pleasure-loving, dissolute and immoral. The royal rapscallion was coming. British newspaper editors desperate for copy, who cared little for the origin of the colourful but unsourced tales, printed them all.
In 1936, when Carol was brought to Dover on the British destroyer Montrose and received a 21-gun salute from Dover Castle, the more scurrilous papers published a fantastic story about the heroic Constantin Cotolan, Romania's Sergeant Yorke, who took part in the funeral procession wearing the formal Sunday costume of peasants from Muscel, Transylvania. Even though Carol was half a mile away in the forward part of the procession, Cotolan was described as his personal masseur. Hauled in to "help the King sober up after an all-night drinking bout", rumour had it that Cotolan had somehow got mixed up in the procession. In 1937, travelling "incognito" on a one-week shopping trip to London, Carol had himself measured for new suits and uniforms at Savile Row, bought gramophone records and antiques and went to the theatre. At a matinee, the audience recognised and applauded him. Much his most controversial visit had been in May 1928, when, a royal exile, he plotted a coup d'etat from the picture-postcard Surrey village of Godstone. He planned to charter a plane to Switzerland and then fly onwards to Romania. Scotland Yard detectives quietly escorted him and his entourage, which included Lupescu, on to a cross-channel steamer at Dover.
President and Madame Ceausescu stayed in Buckingham Palace between 13-16 June 1978, a year after the devastating earthquake of 4 March 1977 and the Jiu Valley miners' protests of August 1 1977, and a matter of weeks before the defection to the United States in July of Ion Pacepa, who had prepared the visit. The lurid revelations in his book Red Horizons were to form the basis of the charges against Ceausescu at the kangaroo-court trial before his execution on 25 December 1989.
A death in Portugal in 1977 provides a link to the earlier visit. Lupescu, long-time mistress and later, wife, of Carol, died in Estoril, probably at the age of 81, surviving her lover by 24 years. An unkind Daily Telegraph obituarist recalled the salacious limerick which had wide currency in the 1930s:
You've all heard of Madame Lupescu
Who came to Romania's rescue.
It's a wonderful thing
To be under a king.
Is democracy better, I esc you?
Nineteen thirty-eight, the year of Munich, and the week after Kristallnacht, which signalled exactly what Hitler had in store for the Jews, hardly constituted a propitious date for a visit to the capital city of the British Empire. It was a year of tension, stress and constant negotiation. Jackbooted Fascism strode throughout Europe. Hitler had reoccupied the Rhineland and Saarland. The British prime minister's appeasement policy, poorly implemented, carried out too late and not enforced with sufficient resolution, had led to Czechosolvakia's loss of Sudetenland and large portions of Slovakia and Ruthenia to Hungary. Poland gained the Duchy of Teschen. By insisting that a strip of Ruthenia be left independent, Hitler had secured a road to the very frontiers of Czechoslovakia - and to the richest and most coveted region of Central Europe, Romania's oilfields. When Goering threatened to bomb Prague, President Hacha, old and sick, had had a mild heart attack. In Czechoslovakia, one of the few remaining democracies in Europe, border fortifications in the form of mountain defences had now been lost, together with 70 per cent of its iron and steel production, 70 per cent of its electrical power, 3.5 million inhabitants, and the Skoda and Tatra Works, the second largest arms manufacturer in Europe. Hitler had designs on Poland. Europe was resigned to war.
In Romania, after the 1929 economic crisis, high unemployment had led to social unrest and strikes, notably the 1929 miners' strike in the Jiu Valley and the railway workers' strike in Grivita. Both were violently repressed. In the 1930s, under Carol's royal dictatorship, 25 governments rotated in and out of power. While the economy recovered amid recurrent crises, industry grew and cultural life flourished, the Iron Guard, a sinister and semi-mystical, anti-semitic, nationalist movement, confronted the government. Carol sought to suppress it mercilessly. Assassinations, massacres and reprisal killings took place on both sides. Corruption and political intrigue reached unprecedented heights. The military plotted. Carol, master manipulator of Romanian politics, forced the incorruptible Maniu into retirement and imprisoned General Antonescu. In the process, with Lupescu, he accumulated an impressive fortune.
As for the House of Windsor, as dysfunctional then as now, which George V had founded by royal proclamation in 1917, the warmth of his reception during his 1935 silver jubilee celebrations had genuinely astonished and pleased him, despite his starchy, remote manner. His doctor Bertrand Dawson had hastened his death on 20 January 1936 by giving him a lethal injection to end the King's suffering and to make sure he died by midnight so that his death could be announced in the Times the next morning. While his despotic. loveless parenting and quarterdeck manner had led the future Edward VIII to seek affection and solace with married women, and left his younger brother, later George VI, with a terrible stammer, to his subjects George V had embodied duty and diligence. With his Victorian sense of morality, George V reportedly described Carol as "that bounder" and never disguised his dislike of him. When, at the end of 1936, Queen Mary, better known for liberating porcelain and silver objets d'art from the stately homes of England, summoned Stanley Baldwin to discuss her son's threat to abdicate, she began: "Really! This might be Romania!"
This royal disapproval had prevented an earlier state visit. Carol, on the other hand, fostered affection and regard for the British royal court. In Romania, George was known as "the soldier king". In fact, he was a philistine, his intellectual interests confined to two books, his stamp album and a volume recording the copious number of partridge, pheasants, snipe, woodcock and grouse, rabbits and hares he had slaughtered. Now, three years after his funeral, the abdication crisis had passed, although children in the streets of London and in playgrounds still sang: "Hark the herald angels sing, Mrs Simpson's pinched our king". The monarchy had been weakened. King George VI, a chain-smoker, never in the best of health, who was to die of lung cancer in 1952, deserved much credit for its revival. His exemplary conduct during the war, when, to rally the population, he and his family stayed in London during the Blitz and beyond, increased his stature immeasurably. His wife famously summarized the royal stance: "The girls will not go without me. And I won't leave without the King. And of course the King will never leave."
Carol, acompanied by Crown Pince Michael and his eminence grise, Urdareanu, the court chamberlain, a key member of the camarilla, the unelected court favourites, had come to London to tell the Chamberlain government that his country would resist Hitler, provided the frontier defences and armed forces were brought up to strength and re-equipped. He needed money for large-scale rearmament. Also, he could resist German pressure only if Romania could arrange an adequate market for its products to make it economically independent of Germany. Unless he received economic aid, he would have to come to an accommodation with Hitler, his only alternative way of maintaining the territorial integrity and independence of Romania.
British political circles outside the government and the serious British press well understood Carol's situation and gave him a warm reception. True, he had fathered two children with a teenage schoolgirl, deserted his regiment in wartime, contracted a morganatic marriage with Zizi Lambrino in Odessa, been obliged to annul it, and, despite his marriage to Princess Elena of Greece in 1921, had run off with Lupescu to lead a lotus life on the French Riviera. From 1930 onwards he had presided over his country with a system far removed from democracy. But in the dire circumstances facing Europe at the end of 1938, the "royal rapscallion" stories were forgotten and he was even praised for establishing firm rule in his country. The commentators were unanimous in describing his three-day working visit as his finest hour. The headlines read "From playboy to statesman".
Carol arrived with a concrete, detailed business plan. Could Britain loan Romania 20,000 GBP, partly as a cash advance and partly as extended credit, if Romania bought war materials from Britain? Romania's war industries would be developed, agriculture industrialized, roads and a new naval base on the Black Sea built. As part of the general defence scheme, economic cooperation with Britain would be based on an elaborate system of barter. Britain would buy almost the whole of Romania's wheat and oil production in return for British manufactured goods.
When he spoke at the Guildhall, knowing full well that he was addressing himself to British businessmen and financiers, while replying to the formal greetings of the Lord Mayor of London, he pulled out all the stops. "Am I not the great-grandson of the Great Queen Victoria? This is, therefore, the first, and one of the strongest ties that bind me to this nation." After reminding his audience that Romania had fought on their side in the Great War, he referred subtly to the new barbarism originating from Germany: "Established on the ancient borders of Western civilisation, Roumania created in the course of centuries, through the bravery of her sons, the first breaker of barbaric invasion." He laid on some flattery: "... I do not consider there could be any more useful and reliable ambassadors of peace than the businessmen," and summed up the political purpose of his mission in one sentence:" Roumania, I assure you, is ready to adopt such a programme as soon as she can be certain of receiving sufficient collaboration of a real and serious nature."
But he left empty-handed. The City did not consider Romania a good enough business risk to justify a loan. This resonated in the Treasury at Whitehall and in Downing Street. The British journalist Alexander Levvey Easterman* places the blame for Britain's unhelpful attitude squarely on Sir Horace Wilson, Chamberlain's chief adviser on international affairs, who was supremely unqualified for the position. Carol then spent five days in Paris closeted with Daladier, the Prime Minister, and Bonnet, the Foreign Minister and the captains of French finance and industry. He found no greater appreciation for the perils of his position, and met with no greater success. Appeasement seemed to have even stronger roots in France.
On November 23, 1938 he left Paris and drove from Basle to Berchtesgarten. He had already received news of increasing Iron Guard violence, orchestrated from Germany. Between his visit to Hitler (a three-hour harangue by the Fuehrer during which Carol stood up stoutly for non-interference in Romania's affairs) and his abdication on 6 September 1940, when Carol left the country, Romania supped full of horrors, human and territorial. Unspeakable atrocities were committed against Jews. Carol ordered the execution of Codreanu, the leader of the Legion, and 13 of his henchmen. An announcement the next day stated that they had been "shot while trying to escape, under escort". In retaliation, an execution squad sent from Germany assassinated Calinescu, the Prime Minister.
The Iron Guard grew in influence. In June of 1940 Stalin demanded the return of Bessarabia and the turnover of Northern Bukovina to the Soviet Union. Germany told Romania to concede. In August Bulgaria took over the southern part of Drobuja and Romania was forced to cede Northern Transylvania to its Axis partner Hungary. Grown men wept in the streets of Bucharest. The next month demonstrations by the Iron Guard - and ordinary citizens - and several stormy meetings with Antonescu forced King Carol to abdicate, although he did not use the word in his proclamation. Carol's son Michael became king although power lay in the hands of Prime Minister Antonescu.
The cargo on the special train included three poodles, two pekingese, perhaps ten servants, furs, paintings by Titian, Rubens, and Rembrandt, hundreds of canvases, jewels, even the armour that had decorated the walls of the royal palaces of Peliflor and Pelefl, and of course Carol's prized stamp collection.
As the train approached Timisoara station, soldiers stationed along the tracks saluted. The train slowed down and almost came to a complete halt, when suddenly the doors of the railway station burst open and some 300 green-shirted legionnaires stormed the platform. The train immediately accelerated. A group of the legionnaires fired on the train. Bullets damaged part of the station wall. Machine gun fire increased. The train hurtled onwards and made no further stops until the passengers were out of the country, at Velika Kikinda, the first station in Yugoslavia.
We have a last glimpse of Carol leaving Romanian territory and the pages of Romanian history books, cowering in the cast-iron bath tub of the special train which took him into exile, while Lupescu sat resolutely in her seat.
*A.L Easterman (1890-1985), Foreign Editor of the Daily Express and Chief Foreign Correspondent of the Daily Herald, later Political Secretary of the World Jewish Congress (to whose book King Carol, Hitler and Lupescu, Gollancz 1942, I am greatly indebted)