Postcard
Postcard from Lisbon
By Vivid writer: Christopher Lawson
Christopher Lawson takes readers on a guided tour of Portugal's capital
Posted: 20/01/2010
Clutching my highly polished wooden seat as tram 28 lurches through the twisting streets and passes through the Alfama, Baixa and Bairro Alto, Chiado and Estrela, I swear I can glimpse the ghosts of the recently departed mingling with ordinary Lisboetas. Isn't that Zeca Afonso, the songwriter? Zeca's stirring, soaring, surging anthem to solidarity in Grandola, a once fiercely communist town in the Alentejo, was the signal for the Carnation Revolution, "os evenimentos" of 25 April 1974, when Portugal finally joined the twentieth century. The revolution took place largely bloodlessly, although special fury was reserved for members of the PIDE (Policia Internacional de defesa do Estado). The austere, pious Antonio Salazar had created the Estado Novo in the 1920s. The military whisked his successor as Prime Minister, Marcelo Caetano, off to exile in Madeira and Brazil. Zeca's life took him to every corner of the Portuguese colonial empire. He must be checking the left-wing credentials of Portugal's socialist government and is probably pleased that the Prime Minister's name is Socrates.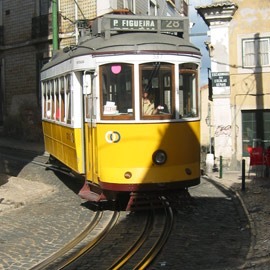 A Lisbon tram.
And look again at that middle-aged woman in black who walks the pavement with majestic dignity. It can only be Amalia Rodriguez, born in poverty in Alcantara, whose electrifying voice took fado, once the music of the waterfront bars and brothels, across the world. She was received rapturously in Romania in 1969. When Amalia, the "voice of Portugal", soaked in saudade, hopeless yearning, died in 1999 at the age of 79, the government decreed three days of national mourning. Amalia must have left her tomb in the National Pantheon to rediscover her roots in the Alfama. She is the only woman and the only singer to be buried there.
Let's get out here, at Cafe a Brasiliera, and join the bronze statue of Fernando Pessoa at his sual seat. Pessoa is smoking perhaps the 60th of his 80 cigarettes a day. Unlike the absent Henrik Ibsen's sacrosanct table and chair at Oslo's Grand Hotel, you can actually sit next to this unlikely colossus of modern Portuguese literature, although service at La Brasiliera is famously sloppy.
Absinthe, 90 per cent proof, was the favourite tipple of Portugal's great poet of evanescence, indefinition and dissatisfaction with things and beings. With no close friends or a partner, Pessoa lived alone most of his life with relatives or in rented rooms. He left a trunk full of poems under his own name and more than four other heteronyms. Images of Pessoa, a slight figure in a clerk's suit, with neat moustache, bow tie, trilby and round gold-rimmed glasses, stare myopically from many locations in the Lisbon area.
A bronze Fernando Pessoa outside the Cafe a Brasiliera in downtown Lisbon.
Now let's take the train at Rossio. We'll head for Estoril, Cascais and Sintra. Estoril, with its impossibly luxurious hotels with marble floors which go on for ever, boasts the largest casino in Europe. Here the great double agent Dusko Popov, a multilingual Royalist Serb, was often to be found during the seven visits he made to Lisbon between 1941 and 1944. Known as Tricycle for his preference for three-in-a-bed sex, Popov was a formidable playboy with a love for la dolce vita. He ran up heavy bills for his British controllers, who tolerated them because he delivered such valuable information. In his way, Popov is not a ghost, but may be one of the immortals, as his lifestyle caught the attention of another wartime habitue of the casino, Ian Fleming, who may have used him as one model for the most famous fictional agent of them all. On a mission to the United States Popov warned J. Edgar Hoover about the attack on Pearl Harbour but was ignored. Tricycle played a vital role in Operation Fortitude, the vast Allied deception plan which persuaded the Germans that the D-Day landing would take place at the Pas de Calais and Norway, not Normandy.
At the Hotel Lawrence in the lush woodlands of Sintra, Lord Byron, during his 1809 grand tour, enchanted with the setting of the second oldest hotel in Iberia, finished several stanzas of Childe Harold.
But most visitors come to Lisbon for gastronomic rather than literary reasons. Portuguese cuisine offers a range of delicious dishes from sardines and cataplana (stewed pork and clams) to roast goat and rabbit. And don't forget to patronise the pastelarias for sticky pastries, lemon curd and custard tarts. And cakes, which the Portuguese make with the same extravagance as the Austrians.
Message (O mar salgado)
Salt-laden sea, how much of all your salt

Is tears of Portugal!

For us to cross you, how many sons have kept

Vigil in vain and mothers wept!

Lived as old maids how many brides-to-be

Till death, that you might be ours, sea!
Was it worth while? It is worth while, all,

If the soul is not small.

Whoever means to sail beyond the Cape

Must double sorrow - no escape.

Peril and abyss has God to the sea given

And yet made it the mirror of heaven.
Fernando Pessoa