Sport
Harold Pinter: 10.10.1930 - 24.12.2008
By Vivid writer: Christopher Lawson
Christopher Lawson salutes the cricket-loving Harold Pinter, who died last Christmas Eve
Posted: 04/03/2009
Harold Pinter, the Nobel-prize winning playwright, polemicist and cricketer, died on Christmas Eve at the age of 78. He was buried on New Year's Eve. Fifty relatives and friends, who included another cricketing man of the theatre, Tom Stoppard, attended the private ceremony, which Pinter had scripted meticulously. Matthew Burton read Pinter's favourite cricket poem, At Lord's, by the Victorian poet Francis Thompson.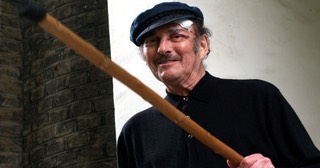 Harold Pinter after winning the Nobel prize for Literature in 2005. "I tend to think that cricket is the greatest thing that God ever created on earth - certainly greater than sex, although sex isn't too bad either," he said.
Burton is a member of the Gaieties, the amateur cricket club in which Pinter spent more than half his life as player, captain and manager. Pinter used to read the poem to mark the end of every cricketing season. In 2003, the BBC had organised a reception for him in the Long Room at Lord's, lined with portraits of great cricketers, to introduce a season of Pinter's work. For Pinter, the Lord's ground, in St John's Wood, London, was much more than the home of cricket. Here he played truant from his drama school, RADA, in the 1940s, to watch Compton, Edrich and Hutton in the golden days of English cricket.
Pinter was rarely happier than when playing or watching cricket on a summer's day. In his final newspaper interview he recalled his childhood in the 1930s. "I used to get up at five in the morning and play cricket. I had a great friend who is still going – he lives in Australia – called Mick, Mick Goldstein. He used to live around the corner from me in Hackney, and we were very close to the River Lea, and there were fields. We walked down to the fields; there'd be nobody about – it would be really very early in the morning, and there would be a tree we used as a wicket. We would take it in turns to bat and bowl; we would be Lindwall, Miller, Hutton and Compton. That was the life," he told the Guardian.
At Lord's
It is little I repair to the matches of the Southron folk,
Though my own red roses there may blow;
It is little I repair to the matches of the Southron folk,
Though the red roses crest the caps, I know.
For the field is full of shades as I near the shadowy coast,
And a ghostly batsman plays to the bowling of a ghost,
And I look through my tears on a soundless-clapping host
As the run-stealers flicker to and fro,
To and fro: -
O my Hornby and my Barlow long ago!
The poem celebrates another golden era. Albert Hornby (1847-1925) and Dick Barlow (1851-1919) were great Lancashire batsmen from the 19th century. The red rose is the symbol of Lancashire, the white rose of Yorkshire. In the 15th century the War of the Roses pitted the two dynasties against each other. The two counties maintain an intense cricket rivalry. Even more profound, as our esteemed editor noted in Vivid two years ago, is the rivalry between England and Australia. In 1882, captaining the English side in a tightly contested match, Hornby had lost the Test match to Australia for the first time and inaugurated the Ashes Test series between the two countries.
Pinter was modest about his own cricketing prowess:
"My skills were limited. There were only two things I could do well. I possessed quite a gritty defence and I could hit straight for six - sometimes, oddly enough, off the back foot. But I didn't do either of these things very often. I had little concentration, patience, or the most important thing of all, true relaxation. And my judgment was distinctly less than impeccable. "Listen, son," Arthur would say, "you've got a good pair of forearms but just because you give one ball the charge and get away with it doesn't mean you can go out and give the next ball the charge, does it? Be sensible. What do you think the bowler's doing? He's thinking, son, thinking, he's thinking how to get you out. And if he sees you're going to give him the charge every ball he's got you for breakfast. You're supposed to be an intelligent man. Use your intelligence." "Sorry, Arthur," I said."
A fellow member of the Gaieties described his love of cricket as "Pinteresque, with glints of malevolence in its courtesies, steel beneath its smile". Never a light-hearted social affair, cricket, like drama, possessed performance, economy of gesture and aggression. "Drama is about conflict and degrees of perturbation, disarray," he once said. So, clearly, is cricket.
Harold Pinter: Various voices Prose,poetry, politics 1948-1998 (Faber and Faber 1999)