Books

False information
Christopher Lawson

'False Impression' by Jeffrey Archer

Lord Archer of Weston-Super-Mare, author, peer, perjurer, buffoon, philanderer, fantasist, charlatan, inveterate self-publicist and all-round bounder, has sold 120 million novels worldwide. An amusing and generous host, Archer also possesses admirable resilience, energy and not a little chutzpah. "It is impossible," writes Roy Hattersley, "to kick him when he's down because he's never down." His huge British and international readership, which clearly loves an amiable rogue, must surely be inured by now to the former prisoner's cardboard characters, wooden dialogue and factual inaccuracies.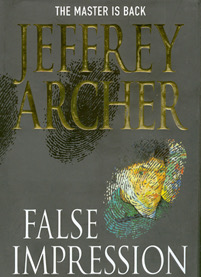 Jeffrey Archer's new thriller False Impression has a Romanian heroine, two Romanian villains and a part-Romanian setting.

Anna Petrescu, a US-educated art dealer and marathon runner, embarks on a chase around the immediate post-911 world after the disappearance of Van Gogh's Self-Portrait with Mutilated Ear. She is pursued by Bryce Fenston, born Nicu Munteanu, a money launderer and executioner, and Olga Krantz, a former gymnast transformed into the "kitchen knife killer", who handily transports dollar bills in a condom inside her rectum. Two scenes play out in Bucharest.

Sarah Jane Checkland has already given Archer his grades in art history. Gaugin was not staying with van Gogh in Arles in 1889; he left the previous year. Van Gogh's friend Dr Gachet did not buy the self-portrait in 1889. In reality he did not meet the artist until May 1890.

I thought we should check Jeffrey's Romanian background as well. After all, as he told publishers and literary editors over mini-shepherd's pies and Krug champagne at his penthouse party on Thursday 2 March, the book took two years to write and went through his usual 17 rewrites.

So how did Anna come to the States?

"Her uncle, George Petrescu, had migrated from Romania in 1972, to settle in Danville, Illinois. Within weeks of Ceausescu appointing himself president, George had written to his brother imploring him to come to America. When Ceausescu declared Romania a socialist republic and made his wife Elena his deputy, George wrote to his brother renewing his invitation, which included his young niece, Anna.

Anna is smuggled out of Bucharest in 1987. Her uncle sends her two hundred dollars "to assist with her passage". "She had fallen in love with America even before the boat had docked … she knew so few words of English that she couldn't even recite the Pledge of Allegiance at morning assembly".

Now hang on, Jeffrey. Ceausescu declared Romania a socialist republic in 1965, when he first came to power. He appointed himself President in 1972. Elena became first deputy prime minister in 1980.

How many passenger liners, apart from cruise ships, sailed to the US in the 1980s? And how much money did her family put up? Two hundred dollars would not have got Anna very far. And would a Romanian teenager like Anna, who is 17 in 1987, really not speak much English? According to the Economist, Romania is "the most multilingual country in Europe after the Netherlands". And anyway, isn't the Pledge of Allegiance more about content than language skills?

Archer's history, geography and topography are reliably shaky. Bucharest boasts a hotel called Bucharesti (sic) International. A square in the Berceni district is spelt Piazza (even though Piata Universitatii appears correctly on the following page.) The first name of the heroic Colonel Slatinaru is the Russian Sergei rather than the Romanian Sergiu. With no mention of Moldova or the Ukraine, Olga appears to escape from a high-security hospital in the Romanian capital directly "across the border" to Moscow, with the help of a truck driver she murders, a train and a plane, in 17 hours.

From Otopeni you can apparently fly directly to Hong Kong and New Delhi. Sergei takes Olga to "the old airport", not used "since Ceausescu had attempted to escape in November 1989". November? After 17 rewrites?

While places such as Jilava prison camp and Berceni, a run-down section of Bucharest, are cited correctly and there are en-passant notes on high rise blocks, malfunctioning lifts and graffiti in Bucharest, there is not a single Buna ziua, La revedere or Multumesc to add just a smidgeon of local colour to the Bucharest episodes. We do however get a line each of Japanese and French.

Archer seems to know next to nothing about the coup d'etat of December 1989, and does not mention that the executions took place on Christmas Day. Romania is used as a vague and convenient former totalitarian backcloth for the present adventures. There are references to escaping from rebels in the Romanian hills, and to a surrounded platoon on the border with Bulgaria which was "quickly rounded up and marched to the nearest prisoner-of-war camp". Here Krantz cuts their throats.

In the only substantial comment on post-coup Romania, Anna "realised that the new regime still had a long way to go if they were to achieve the prosperity-for-all programme they had promised the voters following the downfall of Ceausescu". Well, that's accurate enough.

Inspecting Archer's rented house in Mallorca, Archer's fellow peer Roy Hattersley provides an explanation for the errors we have noted above. "He certainly does not read. In the house that he has chosen for work on his short stories, there are no books."

The best thrillers, such as Alan Furst's riveting chronicles of 1930s and 1940s Eastern Europe, teach the reader facts he or she did not know before. Clearly, it was too much to ask Lord Archer, of all people, for extra insights into the much misunderstood country in which we live.

Macmillan, 2006, pp 528, ISBN 1405032553, £9.88, at www.amazon.co.uk