Under Ceausescu
'Shoulder-charging the door in turn, we broke the lock like 1930s Chicago gangsters'
By Vivid writer: Christopher Lawson
Vivid's Iasi correspondent recalls his first day in Romania, back in September 1976
Posted: 01/04/2007

A Swedish businessman looked on helplessly as his luggage was ripped open and the contents strewn over the customs desk. "Doesn't anyone here speak English?" he wailed, losing his Scandinavian cool. The customs officers were hoping for bribes, unknown in Nordic business culture.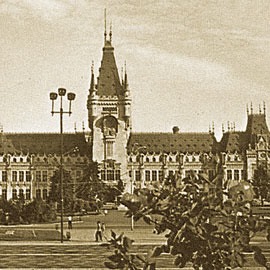 The Palace of Culture in Iasi
In the bleak, bare, brown arrivals and departures hall, a dozen sober-faced Chinese in Mao suits queued in orderly groups. It was 9 September 1976. I had arrived in Otopeni six days after the death of Mao Zedung. When it came to my turn to be inspected, the bored customs man found clothes, LP records and paperback books. I had a vague feeling that Western pop, rock and folk might be considered subversive, but he waved me through.

A new face appeared. 'Professor Lawson?' asked a youthful, enthusiastic-looking twentysomething Romanian in an oversized summer suit. I'll call him PS. He looked embarrassingly shy. It was the first time I'd ever been addressed in this way. Swallowing my surprise (after all, I just had a postgraduate certificate), I shook hands vigorously with my host and his then-wife, a doctor.
I felt the need to make small talk. 'The giants are leaving the earth,' I said portentously, referring to Mao's imminent funeral. I now regret bitterly having said this. At the time the full extent of Mao's crimes against the Chinese people had not yet been documented. Nor had his total lack of personal hygiene.
'But we still have giants on earth,' said PS. I gaped at him. 'Our President, Nicolae Ceausescu, the giant of the Carpathians,' he said, smiling smugly.
Our first stop was the British Embassy, where I was to meet the cultural attache and have a quick look at the library. A young Romanian soldier stood outside the embassy grounds, armed with rifle and bayonet. He looked thoroughly bored. I found out later that, far from guarding the embassy, his menacing, if youthful presence was intended to dissuade Romanians from using the library. Later, too, in the subzero winter temperatures, when the exposed fingers in his fingerless woolen gloves seemed to freeze to the metal, kindly middle-aged women from the embassy brought him hot coffee.
We walked into the grounds, but my host stayed outside the embassy building with his wife. 'Do come in,' I said. He was paralysed in embarrassment. 'No, thank you.' 'Why ever not?' 'You see, I have applied for a scholarship to go to the United States, and I do not want the Americans to see me with British.' I tried to digest this extraordinary statement. Adamant, he skulked by the wall, as I went inside alone. I glanced back. He looked shiftily at me and broke eye contact.
The cultural attache was expecting me. He introduced me to the Romanian head librarian, a charming, no-nonsense woman of indeterminate age. For ten minutes, we talked books and necessary formalities in his office. I didn't want to stay long as I felt guilty about the voluntary self-exile of my host outside. More importantly, would he still be there? I admired the library and borrowed a couple of books.
Brushing aside his recent discomfort, my future colleague announced the next part of the plan. We were to spend the evening in Carul cu Bere. A highly qualified beer drinker, I felt very much at home among the ornate wooden paneling and the art nouveau exterior. I recall that the service was acceptable and sampled my first mititei. In this almost Austrian atmosphere, I had a faint glimpse of interwar Bucharest. I certainly registered the female patrons, all heavily made up with bright red lacquered fingernails. There may have been a Roma orchestra. Noise and smoke limited conversation to banalities.
Rooms had been booked in an inexpensive hotel or a hostel. We had a leisurely breakfast, dining on that Romanian breakfast staple, an omelette. The white bread tasted of nothing.
On the afternoon train to Iasi, we descended on the restaurant car, where we ate snitel pane with salata de castraveti si rosii and drank wine. Alas, this estimable institution, the Romanian vagon restaurant, had been abolished by the beginning of the 1980s. I continued my efforts at making polite conversation. 'I understand that one of my British lecturer predecessors married one of his students.' Quick as a flash came the authorised response. 'Yes, the girl was a well-known – how do you say – prostitute. She slept with many of the teachers at the university.' Was I really supposed to believe this standard smear? Had my host tried this line out on other Westerners? End of attempt at polite conversation, anyway.
It must have been on this train that I first collided with a Romanian public toilet. I must excise the details for a family audience. Arriving in Iasi after what seemed an interminable journey, we hailed a taxi for my quarters in the zona industriala. It was too late for the trams. We took the lift up to the fourth floor.
With an unconvincing show of searching his pockets, my host admitted that he had forgotten to bring the key. It was late. I was tired. The university was far away. Anyway, PS did not have the telephone number of the man responsible for the guest flats. There was only one solution. Shoulder-charging the door in turn, egged on by my colleague's amused wife, we broke the lock like 1930s Chicago gangsters. The place which was to be my home for the next two years was twice the size of that of a Romanian lecturer.

As I made my farewells, and prepared to sleep, I reflected on the day's events. I had had the whole Romanian experience in 36 hours, hospitality, striking black-haired women, inexplicable Balkan behaviour, sheer incompetence, wonderful food and wine.